As my previous posts suggest, I am quite the bargain shopper and hate spending money on clothing without versatility or multiple uses. Therefore, I remember cringingly buying maternity clothes when I was pregnant with my son seven years ago. Knowing that my investment will be short lived before I stash the outfits far, far away, I didn't see the use in purchasing many maternity clothes.
Not much has changed the second time around. Except a couple of maternity jeans and TWO maternity tops, I managed to utilize my existing wardrobe for pregnancy outfits. I also purchased new items, but instead of shopping for maternity clothes, I stuck to items that I can wear throughout my pregnancy and afterwards, as well.
Partnering up with Seattle Goodwill, I want to show how you can avoid buying a whole new maternity wardrobe by staying in your regular clothing much longer than you would expect. If you ask me, it makes perfect sense to shop at a thrift/consignment shop, or even better at Goodwill, for maternity clothing. Since the items are almost brand new because they were worn for only a few months, expecting moms can take advantage of the low prices and save their money for the many baby expenses.
Here are some tips on how to turn your wardrobe into pregnancy-friendly outfits by stretching it through nine pregnancy months:
 Make stretchy fabrics your best friend! It may seem counterintuitive, but dressing your preggo body in close-fitting clothes is actually flattering. Don't make the mistake of buying clothes two sizes up because the rest of your body stays (mostly) the same after giving birth and your arms won't grow, I promise. Instead stick with bodycon and knit dresses that show off your baby bump in all its glory and give you room to grow. There will come a point during every pregnancy when it becomes impossible to camouflage it anyway, so why not make it the focal point?
Get yourself a pant extender! It's a couple of bucks well spent, when you can literally stretch your favorite jeans and pants; at least for a few months. The only thing to consider is to wear long, preferably flowy tops to make sure you don't flash anyone due to the open zipper.
Speaking of flowy tops…and long sweaters and tunics. Buy them, wear them, cherish them! They will become your go-to pieces to change up your maternity style from casual to dressy and everything in between.
Accessorize your outfits! Who said pregnant women can't have fun with fashion trends? I am totally obsessed with the current velvet trend and hunted a pair of merlot velvet booties down that are not only fashionable, but also comfortable. Mamas, we can have it all! Just make sure your booties or shoes have a stacked, lower heel for comfort and no trend is safe!
Throw on a leather jacket, faux or genuine, to pull your outfit together and give it more edge. Don't mind the fact that you can't zip it up. Jackets have become purely decorative at this point. Long vests are a chic alternative to leather jackets, and can be even more flattering for pregnant curves.
And here are a few wardrobe staples that you simply must get from the maternity department. For an inexpensive alternative, check out Goodwill's maternity section for some amazing finds:
– black tights/pantyhose are lifesavers for hiding all those pesky spider and varicose veins pregnant women are "blessed" with
– one or two great pair of jeans that you will live in. Now is the time to splurge, if you feel like it! You can't put a value on a great fitting pair of maternity pants that don't slide off, don't cut your belly off, and look amazing on you. It might take some time to find the perfect pair, but when you do, life will become much better.
– maternity leggings to wear with your plethora of non-maternity long tops and sweaters
Enjoy this special time, ladies, and have fun dressing your baby bumps!!!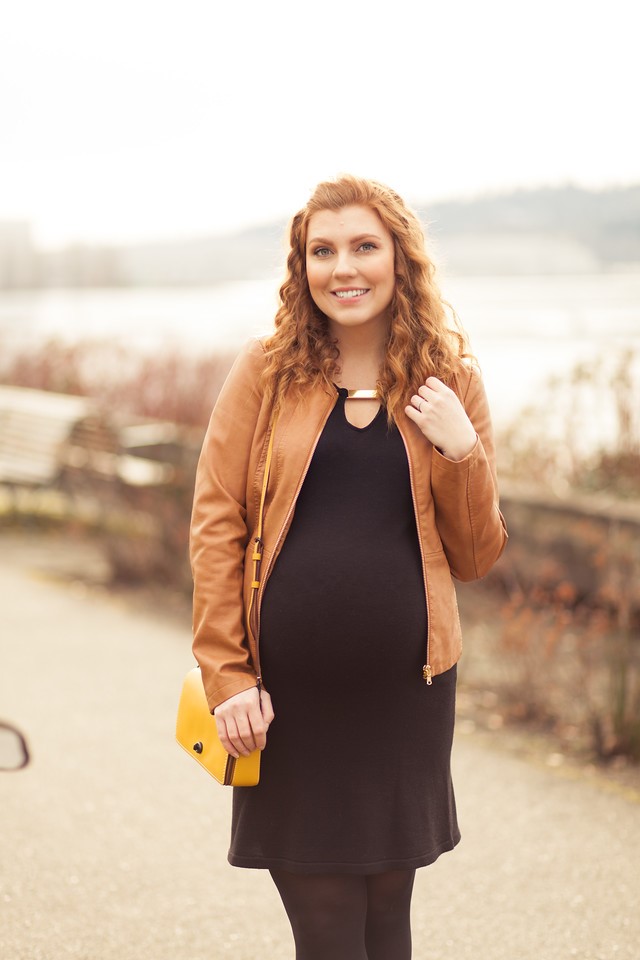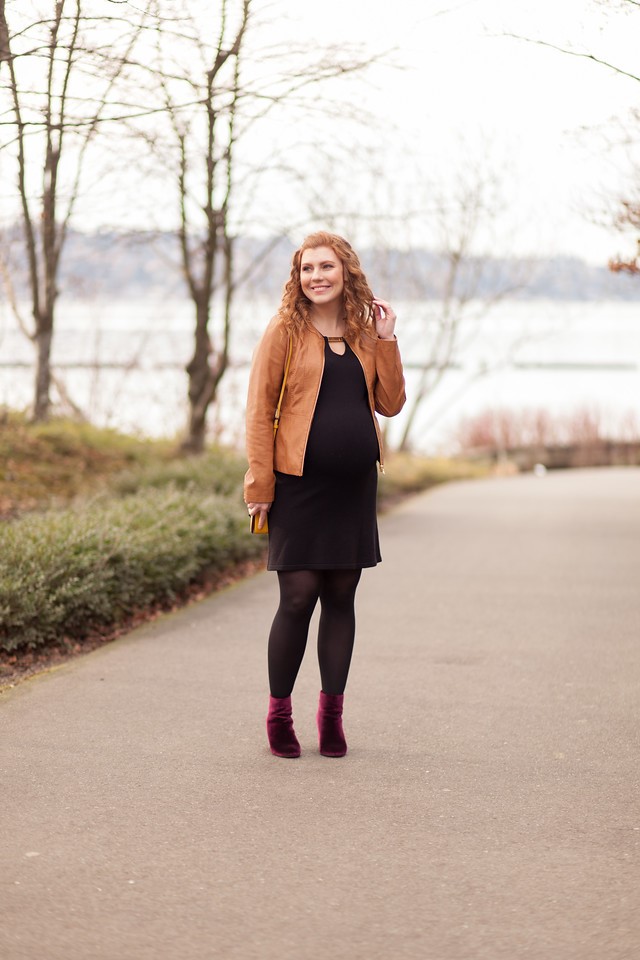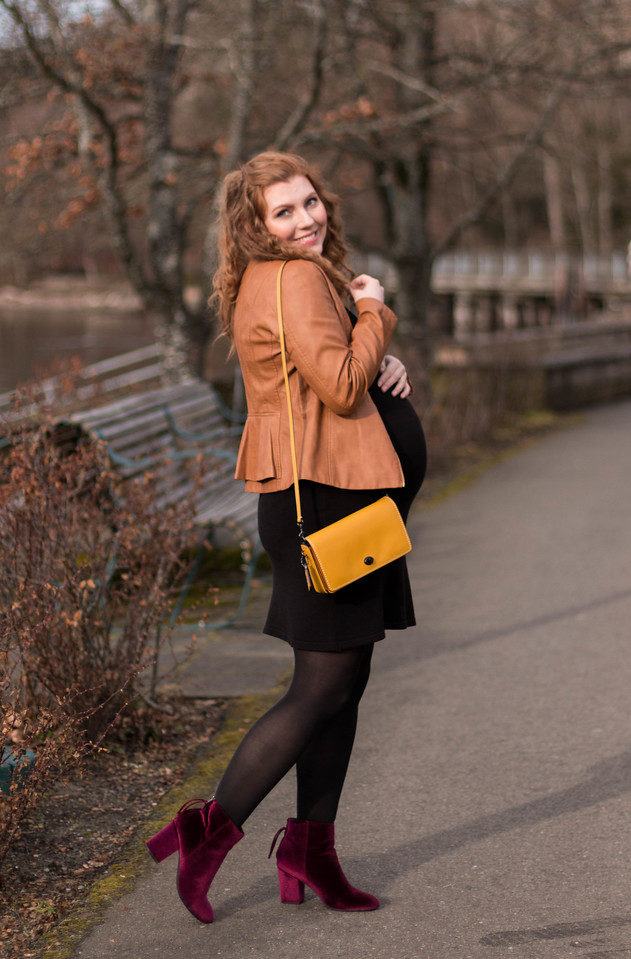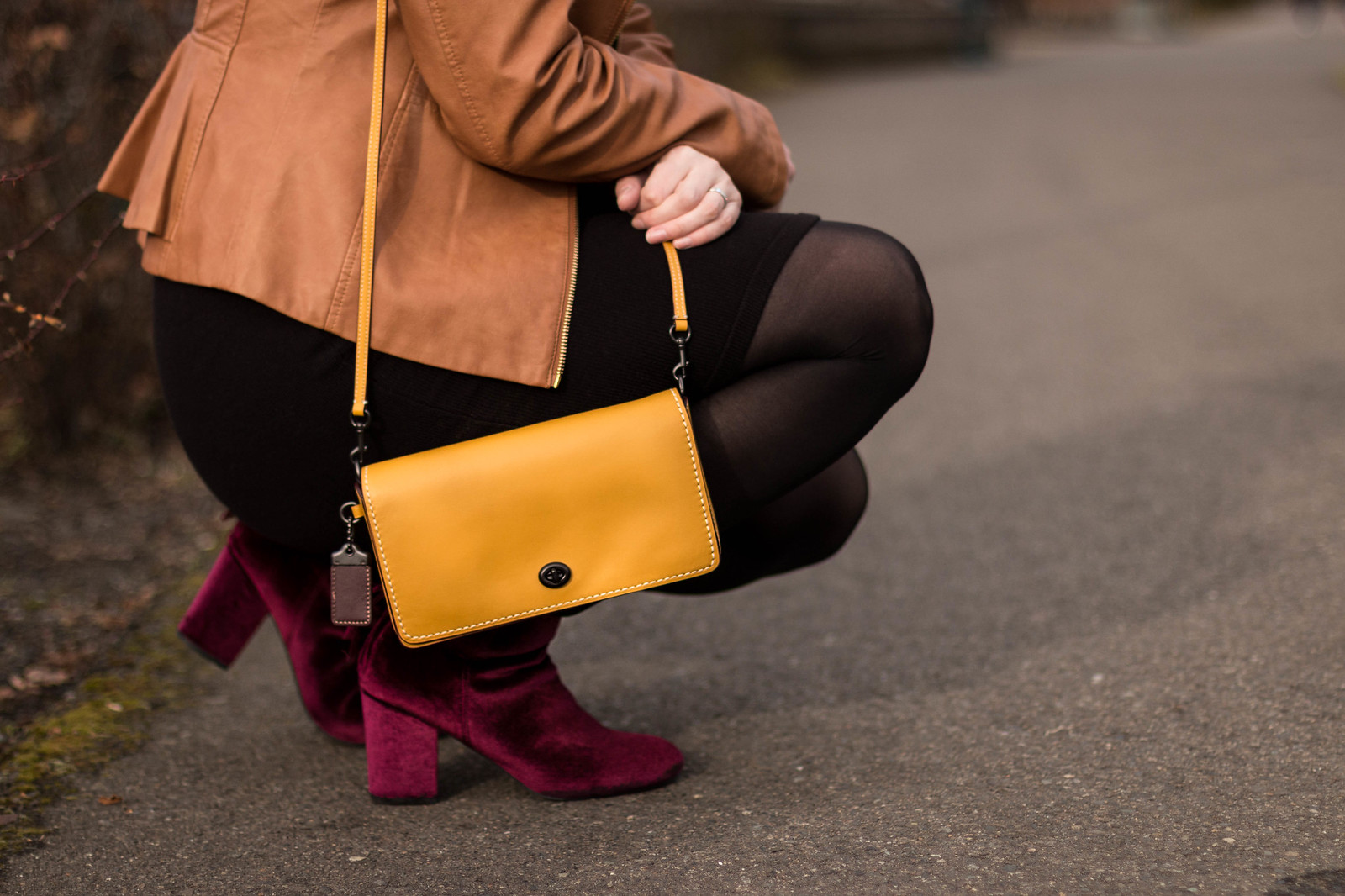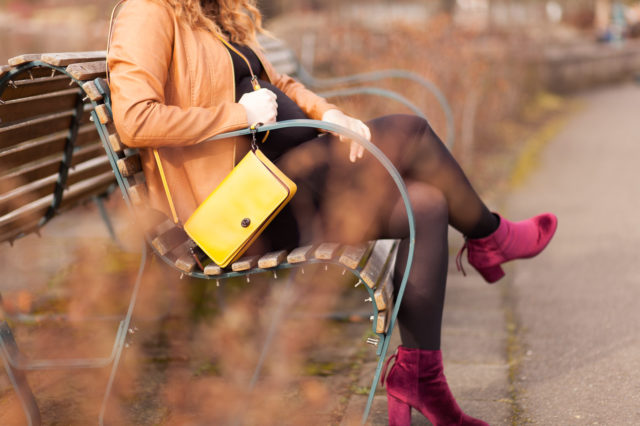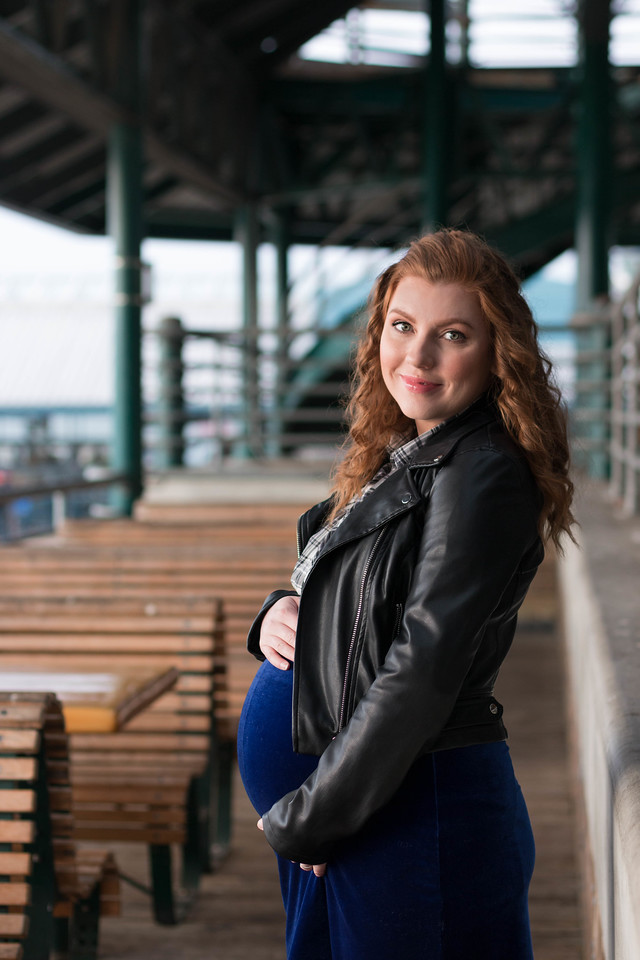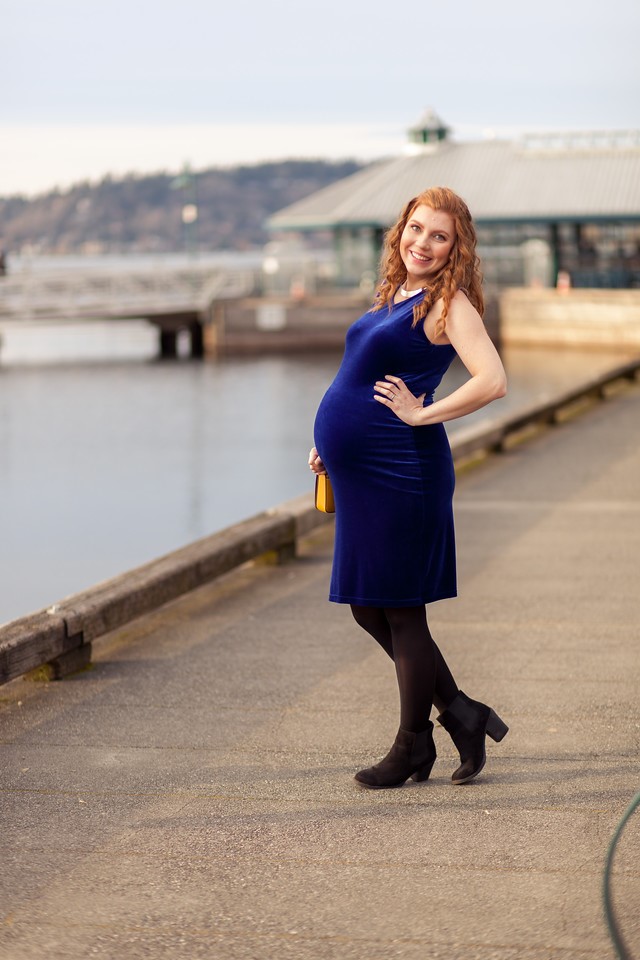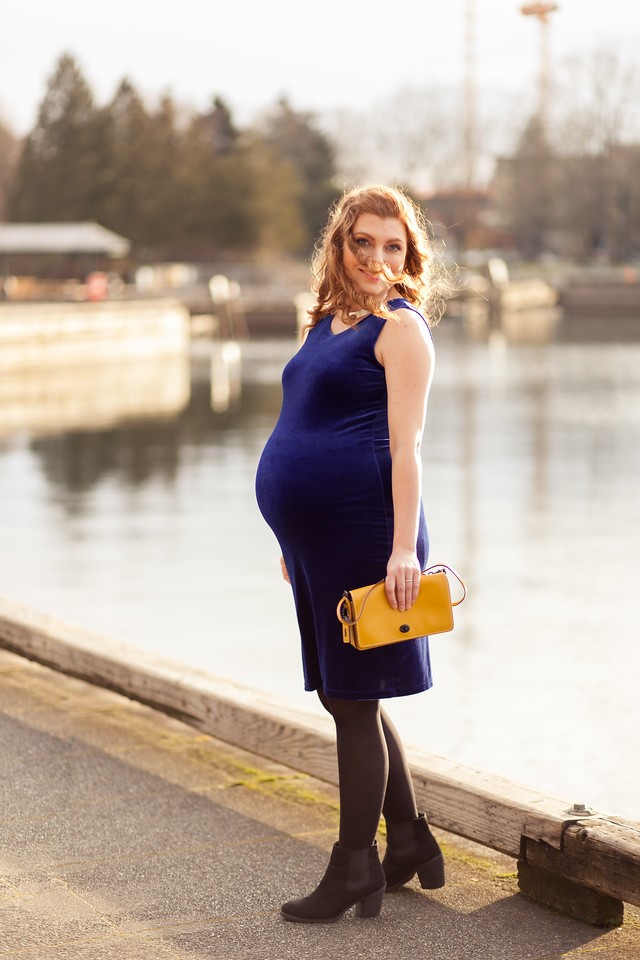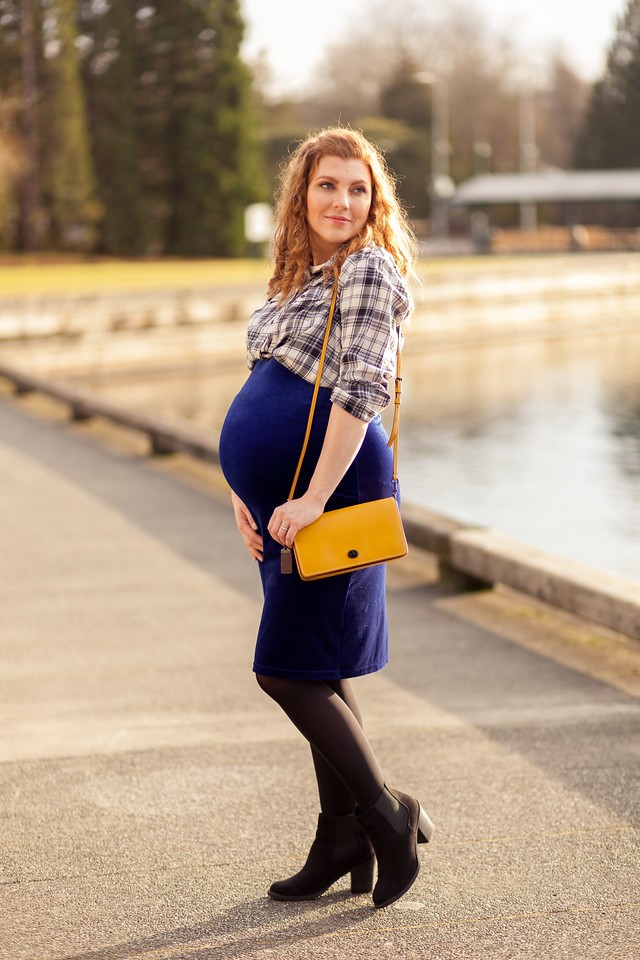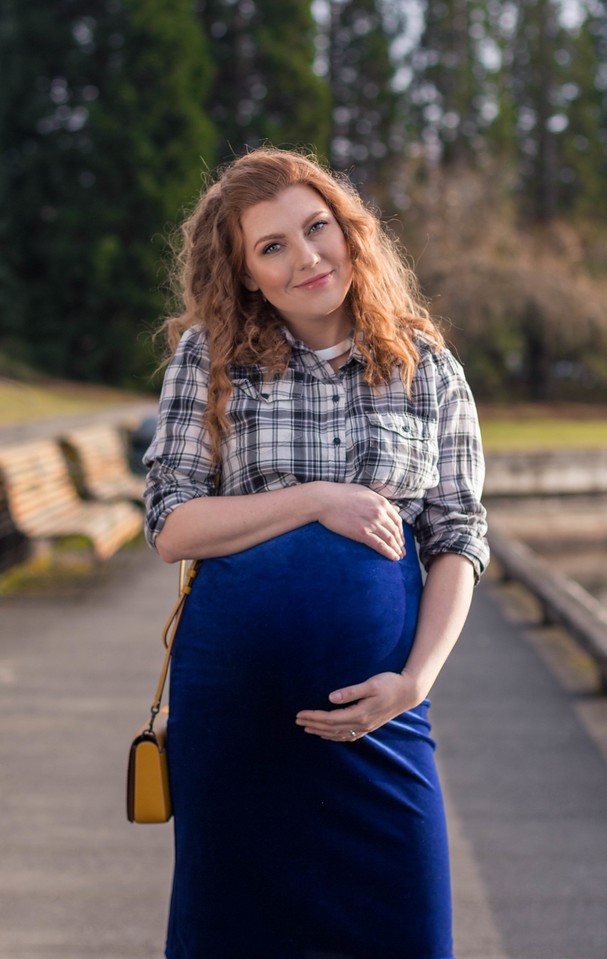 ||Black knit dress: Calvin Klein c/o Seattle Goodwill | Tan peplum faux leather jacket: similar  | Burgundy velvet booties: Steve Madden Cynthia Velvet Booties |  Yellow cross-body bag: c/o Coach 1941 Dinky Crossbody in Glovetanned Leather | Black tights: H&M Mama 2-Pack Tights 40 Denier | Blue velvet dress: c/o Seattle Goodwill | Silver neck collar: c\o Seattle Goodwill | Plaid blouse: Plaid Pintuck Long Sleeve Shirt | Black moto faux leather jacket: similar | Black booties: H&M Ankle Boots ||
Thank you to  VICTORIA WEST PHOTOGRAPHY and SHAUN TURLEY PHOTOGRAPHY FOR CAPTURING THESE PHOTOGRAPHS.
DISCLOSURE:  This post was sponsored by Seattle Goodwill, but THE OPINIONS EXPRESSED HERE ARE MY OWN.