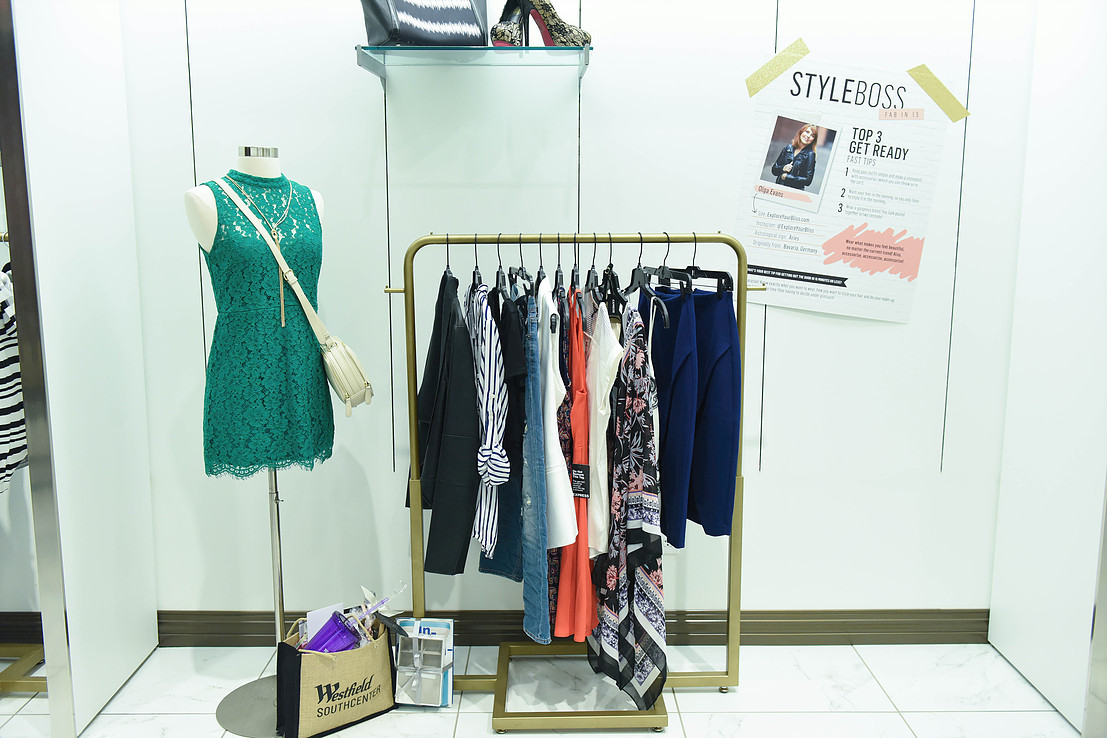 As I mentioned a little while back, I had the privilege of being a panelist at the latest Style Boss event held at the Style Suite in the Westfield Southcenter mall.  After showcasing boss style and street wear during the first two events, the last installment of the series was all about how to get stylish in 15 minutes or less.
Being busy working moms ourselves, Brenda of From Me, With Love Designs , Sasha of MintedMethod and I are used to having only little time to get ourselves ready to head out the door. Thankfully, even short on time everybody can be pulled together, while looking and feeling their best with some easy tips and tricks.  My co-panelists and I had some great style secrets to spill on how to look fabulous fast, and I will share them with you, of course.
How to look fab in 15:
Stick to versatile, staple items – This striped blouse is a versatility genius! Wear it with jeans and flats to drop off your kids at school, throw a blazer over for a business meeting, and wear it to dinner with a pencil skirt and high heels – a definite must piece. By the way, this Portofino blouse comes in so many patterns and colors, you are sure to find one you love. Also, top off the blouse with this sleeveless blazer, while taking it to the next fashion level.
Mix and match neutrals – Nobody has time for perfect color matching in the morning! Bypass the dilemma by sticking to a neutral wardrobe palette. And yes, jeans, navy, beige, and nudes are considered neutrals as well. You are going to love wearing this perfect pair of girlfriend jeans with anything and everything!
Layer a great jacket on top – I picked this black vegan leather jacket for my model's outfit because everyone needs one in their closet. It goes with everything and never goes out of style. I love this Express one particularly because it can be worn zipped up for a sporty look, or open for a more feminine feel. Thankfully, there are so many outerwear options right now, .. short or long vest, kimono, jean jacket, military jacket/vest, bomber jacket…find a jacket that perfectly suits your style!
Accessorize! This is the fun part where we can get creative and truly show off our personality. May it be a breathtaking pair of heels, or a showstopping statement necklace, don't be afraid to play with textures and colors. I consider accessories the cherry on top and the difference between a good and a fabulous  outfit! Extra tip: Keep a favorite statement necklace in the car that you can throw on in a hurry!
 Plan your outfit the evening before and try everything on, including accessories. What might seem like a great combination in theory, might not look as good in real life. Better to figure it out the night before, instead of scrambling for an alternative in the morning!
And most importantly: Wear what you love, and confidence will show through and make you look fabulous!
Now that you have an outfit picked out, you probably have about 5 minutes left for your make-up and hair. Before you throw your hair in a bun and run out of the door, let me tell you about the 5-minute face!
Everybody's 5-minute face is different depending on what features are most important to you to highlight or cover up. However, using versatile skincare and make-up products is a smart idea for everybody.
For me this means, using a BB cream to even out my skin tone, while hydrating and protecting it from sun rays. I also can't leave the house without at least one coat of mascara and brow gel because I have naturally light lashes and brows. As the last step of my 5 minute face, I like to sweep a light coat of blush on the apples of my cheeks, or even just the leftovers on my blush brush, and I am ready to face the day.
If I have 5 minutes more, I usually apply concealer and foundation, in order to achieve a more flawless complexion. Bronzer is another crucial step in my make-up routine to liven up my light skin tone. If you happen to have more time on your hands, contouring can make a huge difference! Additionally, I like to enhance my eyes with a warm brown eye shadow. The quickest way to apply it, is to use your bronzer as your eye shadow! The tone is perfect for a neutral eye and you don't have to mess around with multiple palettes.
Here are the products I use for my 5 minute face:
If you have 5 more minutes:
Tips for quick fabulous hair:
Dry shampoo is your best friend because you can extend your blow dry for a few more days without washing. This one is a miracle for volume and texture, while this one is great all around and for your pocket book!
Give hair bands and wraps a try for a quick new hair style- they come in all kinds of colors and shapes to match your personal style.
Wash your hair in the evening and style it in the morning to save you some much needed time. Often times,  I find my curls look even better the second day!
Tiffany Lowry demonstrates a quick head band style
Hopefully, these tips and tricks will help you to get ready in the morning and look and feel fabulous as we all should!
Stay fab!
Thank you to Darcy Camden from Styled Seattle and Sydney Mintle from Gossip & Glamour for allowing me to be part of such a fantastic event and Vivian Hsu for your beautiful photography!