---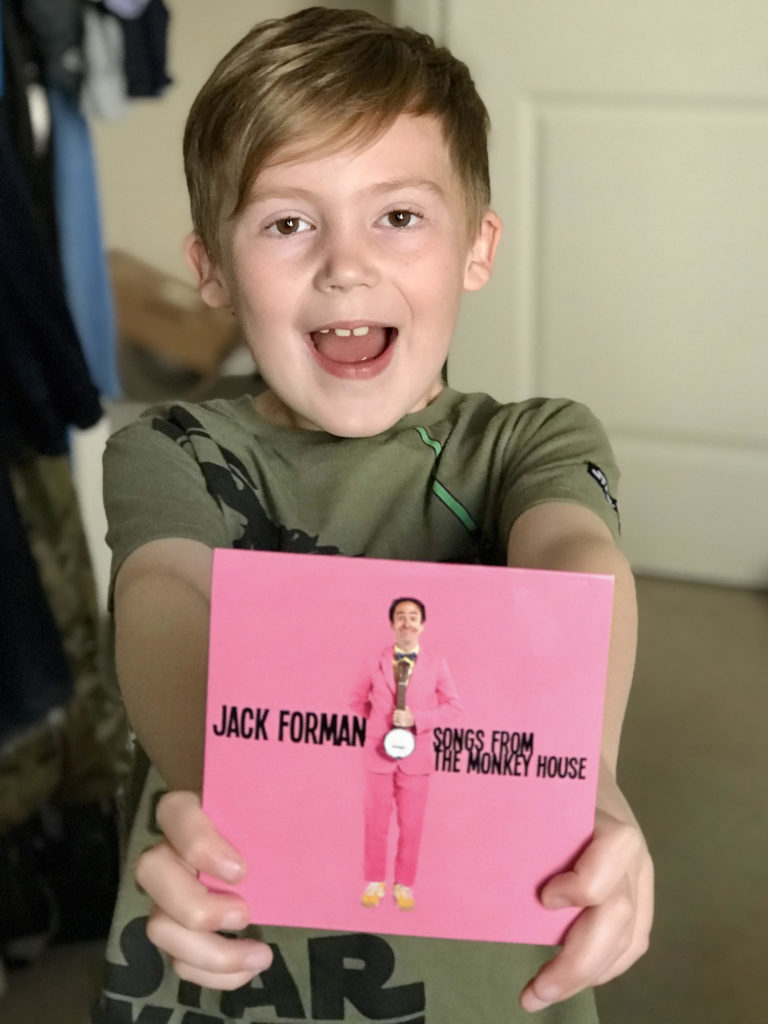 Catching your seven year old humming a song while brushing his teeth – now that must be an ear worm! And Jack Forman's newest album has plenty of them!
My kids and I have been listening to the fun songs since we received the early release album "Songs from the Monkey House". We love the songs so much, they are on repeat in the car and the house.
Some of our favorites include "Yodeling Yoda" and the catchy "Watermelon" song that sticks in my head every time and I don't mind it a bit! And of course, all the cheese songs are just as hilarious as they are perfect to dance and rock out to.
If you are not familiar with Jack Forman, or the local Recess Monkeys, it is time you get to know them!
Jack Forman, well known to thousands of kids around the country as host of the daily "Live from the Monkey House" call-in show on SiriusXM Satellite Radio and as lead singer of the GRAMMY nominated Seattle band Recess Monkey, released his first solo album, Songs from the Monkey House, exclusively to stream on Amazon Music Unlimited and Prime Music, as well as for physical and digital purchase on Amazon Music.
Jack likes to say that he is "at least 75 percent coffee," and his high-energy hijinks are on display with these 12 new original songs. From "Watermelon" to "Yodeling Yoda," "Candy Tour" to "Sportball Anthem," the songs reflect Jack's offbeat humor and eclectic musical tastes. These are not just songs for babies; families with older kids ages five and up will find worlds of fun and memorable melodies with Songs from the Monkey House.
Indeed, all of these self-produced songs are directly inspired by strange conversations with real kids.You'll get a sense of Jack's lyrical genius and unusual sensibilities in songs like "A Little Cheese," "I Lost My Lunch," and even the relentlessly bouncy track, "No Name."
Jack played every instrument, wrote and sang every word, and drank a whole lot of coffee in the months it took to turn kids' ideas into a reality.
A longtime elementary school teacher, Jack is trained in the art of listening to kid-driven ideas. On his radio show and in concert, Jack is just as likely to set youngsters up for the punch line as to take one of his own. Either way, there's a pretty high likelihood of someone squirting milk out of their nose.
Jack shines in the firmament of family music makers today. He has produced 13 albums with his acclaimed band, Recess Monkey (including the GRAMMY nominated Amazon Original album, Novelties); played at least 1,000 highly-caffeinated shows for kids and their handlers; and has hosted his own nationally broadcast live daily call-in show on SiriusXM's Kids Place Live for the past five years.
Share some fun music made in Seattle with your family today and order Jack Forman's album here (included in your Amazon prime membership)